Stars will shine at the 2013 Movers & Shakers Gala
The Movers & Shakers Gala, the popular benefit for Lakeland College, the Sheboygan Symphony Orchestra and several local organizations, is swapping "Dancing With the Stars" talent.
Maksim Chmerkovskiy will be joining Chelsie Hightower as a special guest at the Gala, scheduled for May 18 at Lakeland.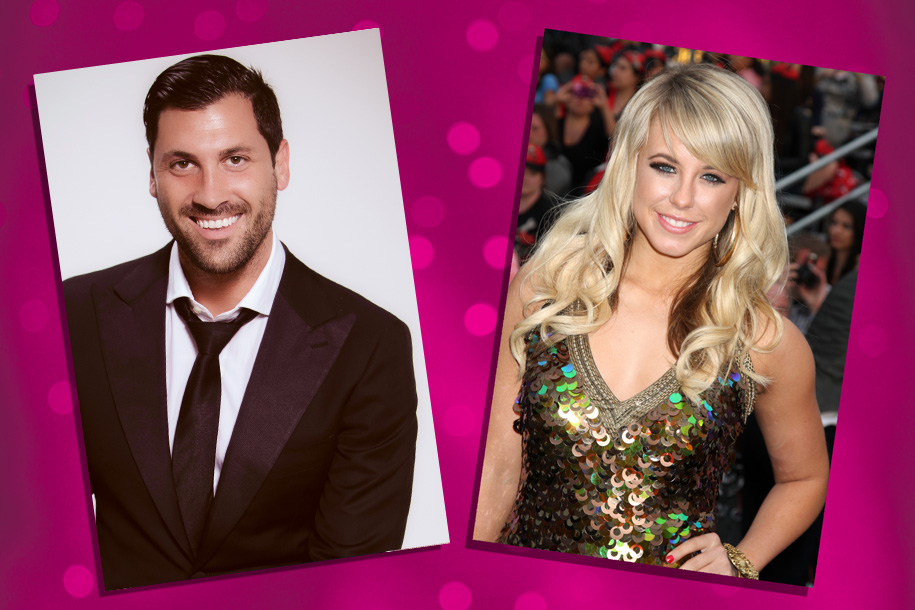 Maksim will be taking the place of Derek Hough, who graciously notified us that he needs to withdraw from the Gala in the likely event that he and his DWTS partner, Kellie Pickler, make the show's final, which is two days after our event.
Derek Hough provided a special message to the Movers & Shakers Gala supporters:
"My 'Dancing with the Stars' partner, Kellie Pickler, and I are working really hard to make the final of the show, which is two days after the Movers & Shakers Gala. Kellie and I are in this event to win it, and that will take all our focus in the coming weeks. Unfortunately, that means I won't be able to attend Lakeland College's event, and I thought it was best to make that decision now. The great news is that Maksim Chmerkovskiy will be joining Chelsie Hightower as your special guest."
Chmerkovskiy, a Ukrainian born dancer, made a name for himself in America as one of the professional dancers on ABC's "Dancing With The Stars."
He embarked on a dancing career when he was a teenager. Known for his tireless determination and unrelenting drive, Chmerkovskiy opened his own chain of dance studios throughout New York, New Jersey and Connecticut called Dance With Me.
He further diversified his brand by creating Maksim Chmerkovskiy Productions, and has lent his choreographing skills to numerous productions, including Las Vegas' Mirage Hotel La Reve. His business acumen isn't limited to dance, as he has also launched his own jewelry brand, MAKSIM.
Chmerkovskiy can currently be seen on ABC's "General Hospital."
Lakeland's Todd Wehr Center will once again be transformed into a beautiful ballroom, including an inviting dance floor, a massive lighting setup and huge video screens to provide Chmerkovskiy, Hightower and a who's who of Sheboygan County a lush stage to showcase their best moves.
In its first five years, Movers & Shakers has raised nearly $1.4 million, including a four-year total of $263,500 for more than 30 nonprofit organizations.
Major sponsors of this year's Gala are the Frank G. and Frieda K. Brotz Family Foundation and Sargento Foods Inc. Additional event sponsors include Festival Foods, Masters Gallery Foods, Inc., Sheboygan Chevrolet-Cadillac and Zimmermann Printing.
Movers & Shakers is pleased to welcome back eight previous dancers for an all-star night of entertainment. Again this year, each dancer has selected a charity which will benefit from their votes sales.
The 2013 lineup includes:
Lisa Brotz, who comes in hot off her meticulous 2012 tap medley. She is employed by Plastics Engineering Co., and also owns and operates Northstar Farm. Votes for Brotz will also benefit Lakeshore Community Health Center. Brotz is sponsored by Plastics Engineering Company.
Paula Gentine, a member of the St. John the Baptist Church and a community volunteer, won the 2010 Movers & Shakers title with her hot and spicy version of the salsa. Votes for Gentine will also benefit Sharon S. Richardson Community Hospice. Gentine is sponsored by Sargento Foods Inc.
Suzie Herold, medical director of executive wellness for Prevea, who won the Judges' Choice Award in 2011 for her knockout performance of the samba. Votes for Herold will also benefit Safe Harbor. Herold is sponsored by Prevea Health.
Dr. Zukie Hirota, who is involved in management at Lakeland College's Japan campus, riveted the audience in 2010 with her unique performance of the Latin showcase dance "Fragrance of Japan." Votes for Hirota will also benefit Lakeland College Japan campus. Hirota is sponsored by Lakeland College Japan campus and NIC International College in Japan.
Nellie Schmitt, a popular local entertainer who danced the rumba in the first Gala in 2008. Votes for Schmitt will also benefit Meals on Wheels. Schmitt is sponsored by Loretta Schmitt, Jos. Schmitt & Sons Construction Co., Inc. and friends.
Wally Waldhart, vice president of sales and communications at ACUITY, an active community volunteer and the first winner of the Judges' Choice Award in 2010 for his memorable performance of the American tango. Votes for Waldhart will also benefit Theatre for Young Audiences. Waldhart is sponsored by ACUITY.
Deborah Wente, the chair of the Movers & Shakers organizing committee and an active community businessperson and volunteer, returns after her graceful performance of the fox trot in 2010. Votes for Wente will also benefit PSC, Partners Seeking a Cure. Wente is sponsored by the Grover Family Foundation, Inc.
Ed Zieve, an octogenarian and CEO of Kees Inc., of Elkhart Lake, got a standing ovation for his 2011 performance of the jitterbug. Votes for Zieve will also benefit the Elkhart Lake Public Library. Zieve is sponsored by the Zieve Family Foundation.
Complete biographies of each dancer can be found here.
The format and layout for the evening has been enhanced to accommodate more than 1,000 guests in the ballroom to view the 8 p.m. performance. Theatre-style seating, along with limited table-seating around the dance floor, are available.
A pre-event reception will begin at 6 p.m. with complimentary hors d'oeuvres and a cash bar. Following the dance performances, additional food will be available for purchase and the cash bar will remain open during the live music and open dancing.
Tickets go on sale Monday, March 4, and can be purchased exclusively online here. If you have questions, please contact event planner Kym Leibham at (920) 207-0222 or leibhamk@lakeland.edu. There is limited table seating for eight for $3,000, and individual, theater-style seating at $200, $100 and $50.
In addition, 12 fortunate guests have the opportunity to sit with Hightower and Chmerkovskiy at their personal tables for the evening. Six seats are available at each of the star's tables for $750 per ticket. The tickets will be sold first come, first served. The tables are in a prime location at the front of the ballroom and include hors d'oeuvres, tableside cocktail service during the Gala and preferred parking.
The Gala will also include a live auction that will give two people the opportunity to dance with Hightower and Chmerkovskiy at the Gala. Details about this once-in-a-lifetime auction item are available here.
You don't have to attend the event to help support the charities. Anyone can purchase votes, at $20 each, for their favorite dancer prior to the event here. These charities receive 50 percent of the proceeds raised from the votes for each dancer on their behalf, so vote early and often.
The celebrities will be paired with a professional dancer, and are in the midst of months of training before they compete to win the support of four judges and what's sure to be another sell-out crowd.
"We are always looking for ways to keep this fabulous event fresh and exciting," said Deborah Wente, a member of the Lakeland Board of Trustees and the chair of the Movers & Shakers organizing committee.
"The community support and volunteer interest for Movers & Shakers continues to be strong. These people join our 'celebrities,' local companies and our guests who give financially to make this evening successful."
Matt Quasius, who danced in 2011 will serve as host for the evening. Julia Loo-Sutcliffe, who danced in 2009, will serve on the judges' panel.
Following the competition, the dance floor will be open to all guests and the Swing-O-Matics will provide music for the remainder of the evening.
You can also be part of the pre-event buzz by joining dancers, committee members, guests and volunteers on Facebook. "Like" us for regular updates.
If you want to get behind the scenes and help make this evening possible, a number of volunteer opportunities are open to the community. More information is available here.
Thank you to our 2013 event sponsors!
Frank G. and
Frieda K. Brotz Family Foundation

Presenting Sponsor

Reception Sponsor

Gala Service Sponsor

Valet Sponsor

Technology Sponsor